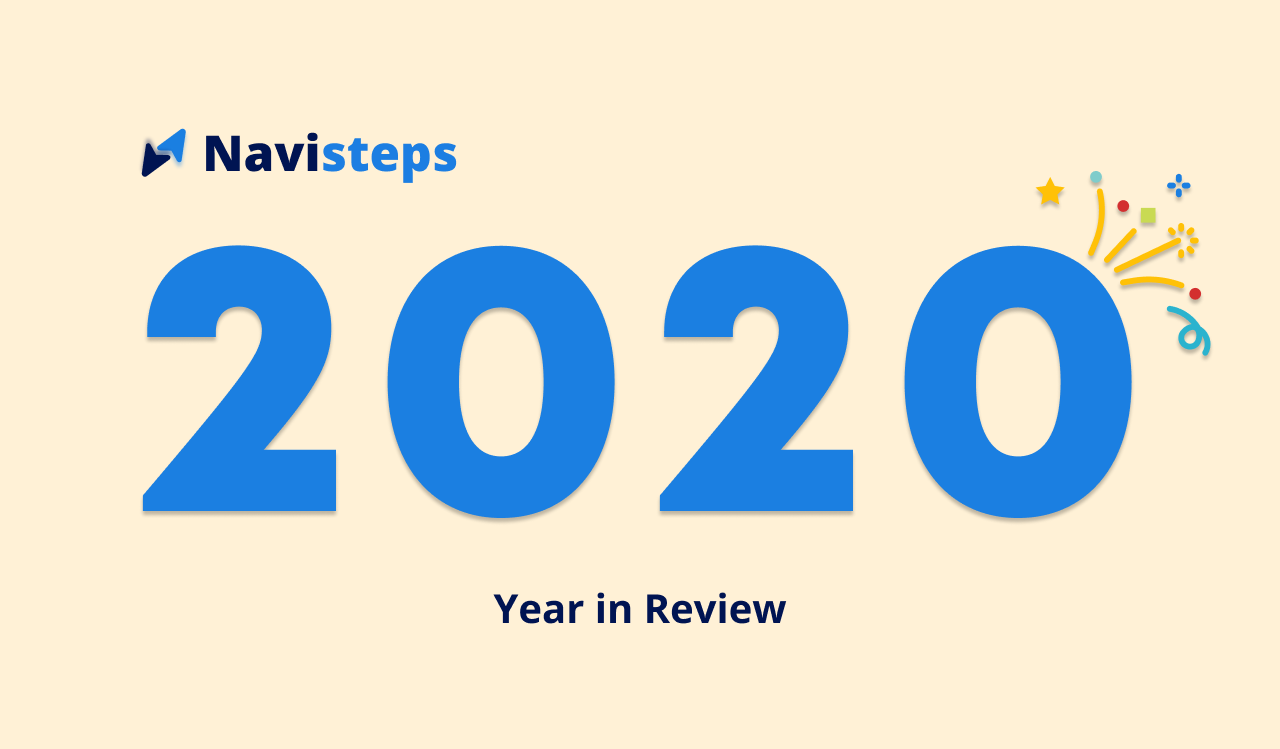 Navisteps Year in Review 2020
2020 has been a crazy year for everyone. As businesses worldwide scramble to survive through the COVID-19 pandemic, we are grateful to have been able to:
As we strive to help businesses become more efficient in expense and travel management, here is the list of features that we rolled out in 2020!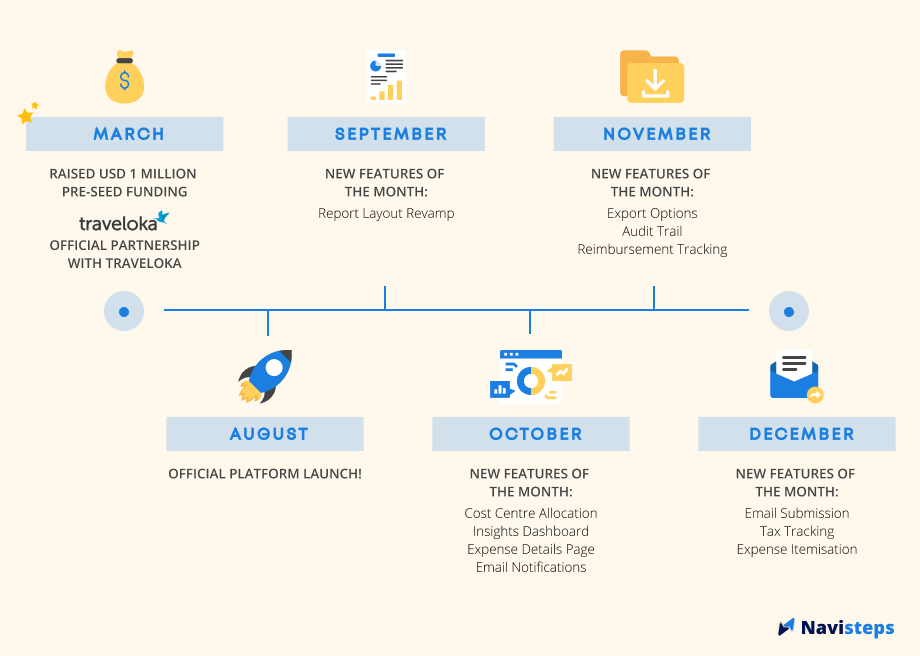 🔑 Built-in expense policies and approval workflows
Our easy-to-use policies allow company, team or individual spending preferences and limits to be set up in minutes for 100% policy compliance. With streamlined criteria-based approval workflows, companies can ensure that travel booking requests and expense reports reach the right approver(s) and pass adequate levels of review. Companies will get to reduce confusion, remove errors and improve efficiency by automating their policies and approval workflows.
✈️ Affordable Business Travel Inventory
Thanks to multiple supplier integrations, Navisteps is able to offer a wide and affordable business travel inventory to our users. Users are able to compare among airlines without having to email back and forth with business travel agents or searching on multiple sites. This enables employees to save time and effort when booking their business travels.
🧳 Real-time Policy Violation and Business Travellers' Profiles
With real-time policy violation and saved business travellers' profiles (e.g. business travel documents, loyalty program numbers, payment methods), business travellers are able to quickly identify and book the most cost-effective, efficient and in-policy journey option.
🧾 Consolidated Invoice
Companies can opt for credit billing to receive a consolidated invoice for all travel bookings at the end of the month. This allows travel managers and finance to settle their travel expenditure on a monthly basis rather than everytime they transact. The feature also simplifies accounting and reconciliation processes for companies as well.
💰 End-to-end expense management process
Navisteps simplifies the business expense management process of any company to just a few clicks, allowing companies to shift away from manual expense management. Employees, managers, and accountants can create, submit, approve and access expense reports on-the-go — all in one platform.
Users can customize their company settings through groups, report labels, expense categories, for a clear picture of their business expenditures and integration with their accounting software.
📑 Report Layout Revamp
Being organised at work is important as it can increase productivity, reduce stress levels, allow employees to be punctual and meet deadlines effectively. As we understand how important it is to be organised at work, Navisteps has revamped our report layout so that our users have a clear, standardised overview of their expenses and travel items. This also allows companies' Finance and HR departments to have a clearer overview of cost allocation and any potential optimization to be done.
💸 Cost Centre Allocation
By being able to allocate expense reports to specific cost centres, companies are able to leverage on our "cost centre" feature for budget matching to different departments. The company management team can also measure, budget and control costs for each specific function the business performs.
💻 Insights Dashboard
A dashboard is an information management tool that visually tracks, analyses and displays key performance indicators (KPI), metrics and key data points to monitor the health of a business, department or specific process. 
Having a dashboard is important as it provides clarity and visualisation of the company's expenses and travel activities that can allow management to make better data-driven decisions. By having an automated digital insights dashboard, companies can save a lot of time and money as they do not have to manually collate and analyse the data themselves.
📊 Expense Details Page
Under our "Expense Details" page, employees can have a full overview of all the expenses claims that they have done throughout their lifetime within the company with specific details such as the amount, labels, cost centres, etc that are tagged to each expense claim.
Users with admin access are able to have an overview of all employee claims throughout the entire organisation itself. 
📧 Email Notifications
To ensure timely reimbursement, efficient flow of information and fast approval, automated email notifications are sent to relevant employees in the case where employees themselves did not open their notifications within the platform after 5 minutes.
📚 Export Options 
Our export feature allows users to download all expenses claims receipts and reports as a default or Xero compatible CSV file. 
For companies who are currently using the accounting software service, Xero, you can easily download the reports from our platform and upload them into the Xero platform! We are also in the midst of establishing a direct integration with Xero to make the process even smoother and seamless for our users which we hope to roll out in the upcoming year.
🚩 Reimbursement Tracking
Companies are able to mark if a certain claim has been reimbursed so that they can keep track of their employee claims and make sure that all claims have been reimbursed timely. This helps companies to maintain employees satisfaction and allow companies to analyse their expenses and budget as well.
📂 Audit Trail
Having an audit trail of claims submission, approval or rejection given, and action taken allows the company management to be able to track and oversee changes in real-time. This allows for accountability and transparency in the expense and travel management process for companies, and also helps them during internal and external audits.
📩 Email Submission
Our email submission feature allows companies to automatically generate an expense report in two steps, allowing employees to stay efficient in their expenses claims process. As using emails should be intuitive to most in the digital age, this eliminates the possibility of having a steep learning curve in claiming expenses for employees!
📝 Tax Tracking
Through Navisteps, companies can set up their own tax rates and enable employees to tag it to the relevant expenses. Employees need to set the tax treatment on transactions so your tax calculates correctly, and choose whether your transactions are tax inclusive, exclusive, or with no tax. For companies which are VAT/GST registered, this feature allows tracking and claiming of allowable input tax: 
Generally, companies are not allowed to claim input tax for purchases if the tax invoices are not addressed to the company name. However, input tax claims can be allowed if companies can prove that their employee is acting as an agent of the company (i.e. the taxable person) in receiving the supply of goods or services. 
Through our platform, companies can maintain evidence of reimbursements made to the employee and recognise the bills as business expenses in their accounts.
🗃 Itemised Expense
By being able to itemise expenses, employees can associate multiple categories and apply different tax rates with each line item. The total itemised expense will be automatically calculated based on the expense amount of each line item and the tax applied on each of them.
This allows companies to make better business decisions as they allocate budgets to the different categories and manage cash flow accordingly.
What's ahead for Navisteps in 2021
The way we have work, live and play has been changed for good as everyone adapts to the new normal. With new features and upcoming partner integrations with companies such as Xero, Navisteps strives to support businesses worldwide by digitalising their expense and travel management and optimising these processes. 
Do you have comments on our listed features, or are there other features that you would like to see within our platform? Talk to us about it at support@navisteps.com and we are more than happy to have a discussion with you!
As we end our year in review 2020, the Navisteps team would like to wish everyone happy holidays and for a better, happier, and healthier new year to come! 🎉 
Also, remember to follow us on Facebook, Twitter and LinkedIn if you haven't done so already!