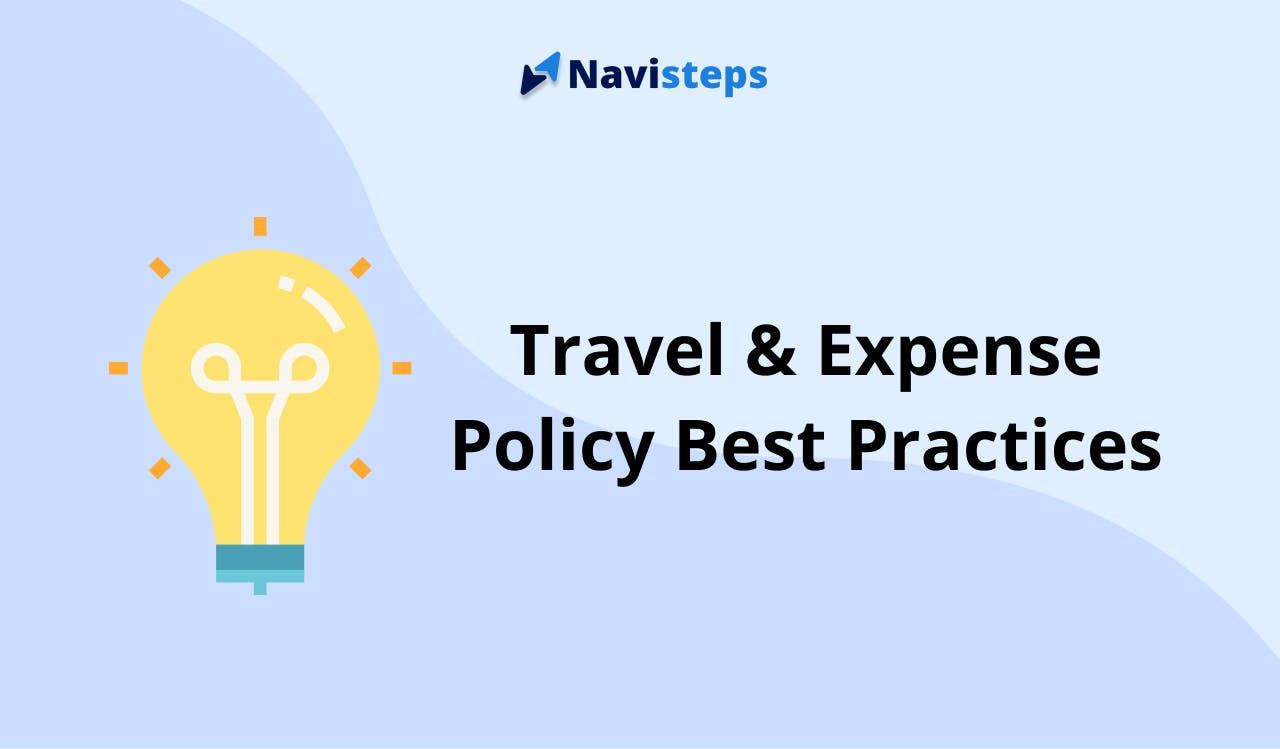 This is the last article as part of our Travel and Expense policy guide. If you have not read the first two articles yet, check them out here: 
Having a poorly implemented policy can be worse than having no policy at all. Hence, it is important to take certain steps to ensure that your policy is being effectively implemented to ensure a high rate of policy compliance. Here are some best practices and tips from the Navisteps team to effectively implement your travel and expense policies.
Travel & Expense Policy Template
1. Keep it simple and clear
A good policy should cover all aspects of travel and spendings that employees will be dealing with during a business trip. However, this does not mean a 30-page document explaining every single detail.
No matter how important the policy is, no one is going to read it if it is overly complicated and wordy. Keep to short and simple sentences and include only relevant details. Ensure that every procedure included in the policy is broken down into clearly explained steps. 
You should also make your policy as visually appealing as possible. Try incorporating flowcharts and tables if you feel that they can help to explain a certain procedure better. It is also best to include a content page so that travellers can easily find what they are looking for.
2. Provide the right information 
Include information such as what employees can do in the case of an emergency and details of travel and emergency support that the company or insurers provide.
It is also important that all expense and reimbursement procedures are clearly stated in the policy so that employees do not need to keep clarifying with their managers each time they need to travel.
3. Keep all bookings in one place
One great practice that helps companies manage their travel policies is to encourage everyone in the company to book from the same vendor or platform. This can be done with minimal trade-offs by utilising a travel management software. 
A key benefit is that focusing on a trusted platform saves time in terms of sourcing for and booking travel. With all traveller information stored in one place, there is no need to search for employee documents and details or to re-enter data each time there is a booking. The amount of time spent waiting for messy email or paper approvals is now cut down to seconds as everything becomes automated on a single platform.
Another benefit is that you will be able to account for everyone's safety. If everyone books in one place, you can easily track their whereabouts and monitor those who have travelled to high-risk areas.
4. Involve your employees 
When deciding on what goes into your travel and expense policy, it is important to involve your employees in your decision-making process.
For example, if you want to invest in a travel management system, it is important that you choose one that engages your employees. If employees find the system cumbersome or hard to navigate, chances are that they will feel frustrated and consider seeking alternatives. Hence, it is good to involve employees and gather some of their feedback before deciding on the right travel management system. 
It is also vital for companies to communicate the rationale of policies to their employees by actively engaging them through meetings or company events. When employees understand why a certain policy is in place, they will more likely follow and adhere to it.
5. Automate your policy
Let's face it, even if the policies are there to protect or benefit your employees, chances are that there would still be errant employees despite the best communication efforts. A survey conducted on Asian business travellers in 2015 revealed that 35% of business travellers do not always adhere to their company travel policy.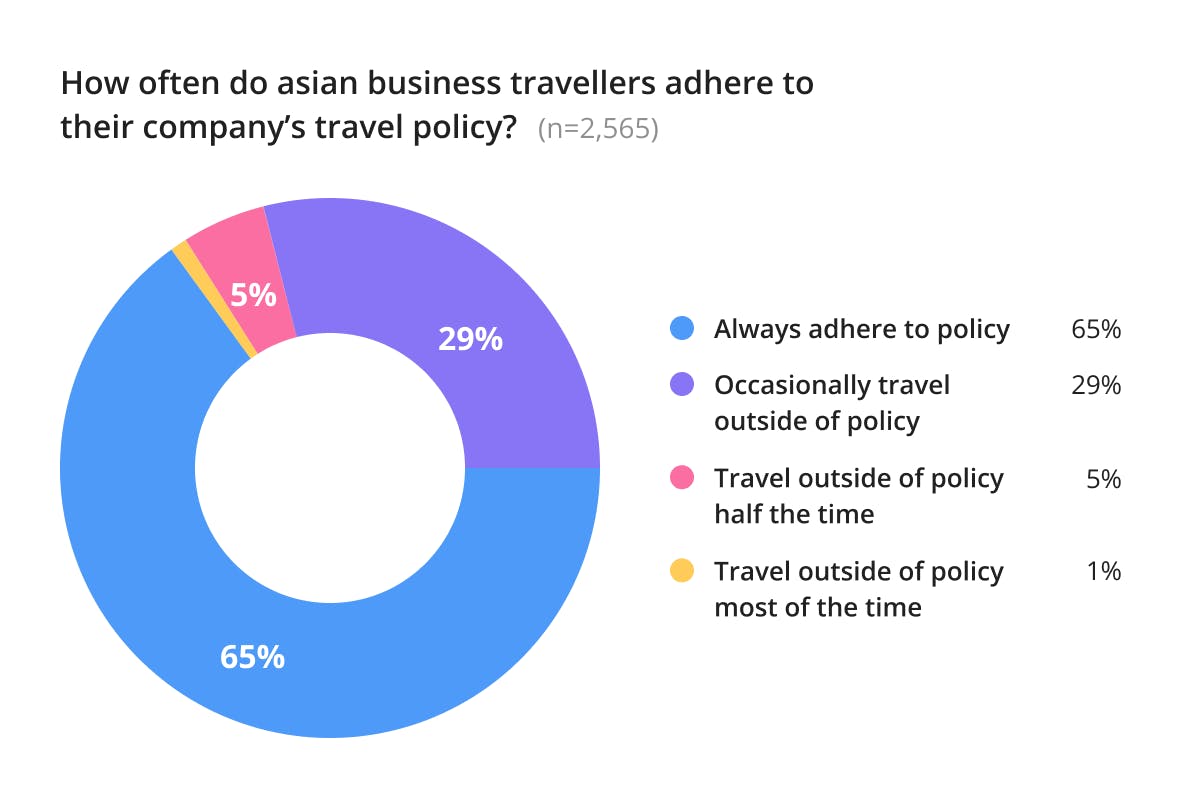 This is where automation will make a real difference. When you automate your policy, it becomes unavoidably embedded within your travel booking process. With the help of automation tools on travel management platforms, any out-of-policy selections would sound alarms or be rejected by the system immediately. 
Besides the obvious benefits, it can also help tackle some challenges such as: 
Difficulty in ensuring complete and effective distribution and communication of current policies to employees
Struggle for employees to remember or understand the applicable policy
Lack of accountability or audit trails for employee bookings and approvals
If you are facing the above challenges, it is time to consider automating your travel and expense policy! This would not only allow you to maximise your time savings, but also significantly reduce costs in the long run.
6. Invest in an expense management system
Tracking your employee's expenses will encourage them to be more cautious with spending and that would itself help to increase compliance and decrease costs. However, keeping track of expenses is no easy task as it can be time-consuming and can result in multiple errors when done manually. 
Investing in an expense management system can bring about many benefits but most importantly, an increased compliance rate. A study conducted by Level Research revealed that expense management systems improve the ability to enforce policies by 59% and improve employee satisfaction by 37%.
This is largely because expense management systems help to automatically flag out any expenses that do not comply with the company's travel and expense policy. This significantly cuts down on time that is traditionally wasted on waiting for approvals or manually checking for errors. 
On top of that, you would also gain access to a centralised database with all your historical expense records that might allow you to derive meaningful insights into your corporate spend. The best part is, you won't even have to lift a finger!
7. Stay up to date 
As the company evolves, there are bound to be some changes along the way. It is necessary for the company to regularly review its policies and procedures to ensure it stays relevant and competitive.
For example, there might be an amendment made to the law or some new issue that needs to be addressed. These changes should all be reflected in the company policy. A strategic approach to revising your policy is to ensure that the policy is checked based on these five main points: 
Accuracy
Relevance
Compliance
Complete
Understandable
Firms should review their policies at least once a year to ensure that current policies are still effective and also to check that they remain compliant with any new regulations that might have come into play since the policies were established. Besides allowing the firm to stay up-to-date, frequent review and optimisation of policies can sometimes also bring about accidental discoveries of new avenues for cost savings. 
Take for example your expense data shows that employees prefer booking a particular airline or hotel chain. Why not use this as an opportunity and look into getting corporate rates for your company?
Make sure to follow these best practices to ensure that your policy is being effectively implemented. We hope that our travel and expense policy guides have been useful in helping you craft your own company policies. If you have any questions or comments regarding travel and expense policies, do leave us a message. We would be happy to hear your views!